3 WIDTHS
On some selected styles, Klaveness offers three different widths based on the same last - narrow, standard and extra wide. These volume options can be used to address as much customization needs as possible while keeping the original shape and features of the style. Klaveness also provides a range of standard soles designed to match each of these different shapes.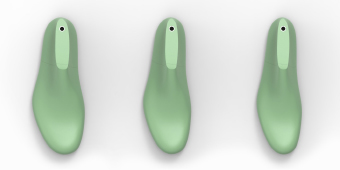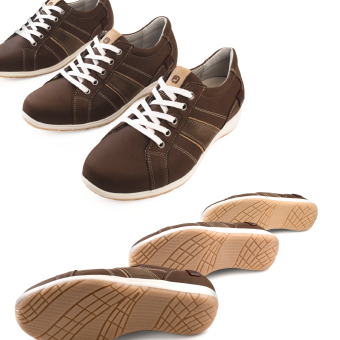 STRETCH MATERIAL
Footwear with this symbol is partially made with stretch material.
Stretch ensures comfort, increases flexibility and adaptability to the foot.
BELLOWS TONGUE
Bellows tongue is a large folding tongue attached at both the top and the sides of the shoe upper. Mostly used in trekking footwear, it protects from snow, water and sand, while increases insulation.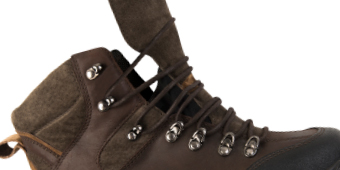 CUT-TO-LENGTH STRAP
A set of Velcro straps is the preferred fastening system for most footwear, especially for its simplicity of use by children and the elderly.
To broaden the extension of adjustment, Klaveness offers extra-long Velcro straps marked with different lengths options for cutting. The user can cut-of the excess, so it's adjusted in a controlled way.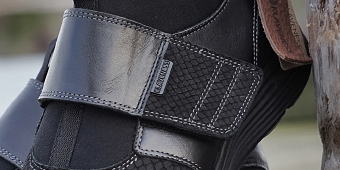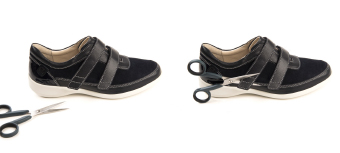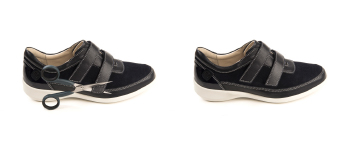 DOUBLE VELCRO STRAP WITH RETURN
For further closure and adjustability, Klaveness uses two sets of opposite fastening return straps. This solution also widens the opening, and aids the putting on and taking out shoes.
By returning the strap through a loop, acting as a pulley system, one obtains a reinforced closure and an optimised adjustment.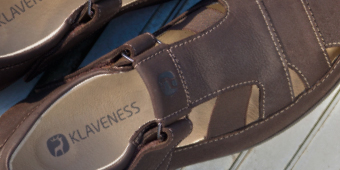 DOUBLE ZIPPER
Dual-side zipper closure adds functionality and warrants a wide opening to footwear, for easy put on and take off.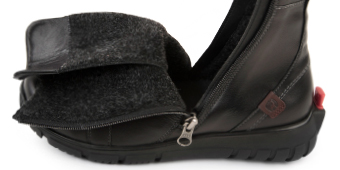 ICE SOLE WITH PATENTED TWISTABLE STUD PART
Klaveness has developed a solution to prevent slipping accidents - a significant problem, especially among older people.
The ice sole system is as simple as ingenious. It's an easily twistable piece built into the bottom of the sole.
If you need increased grip when walking on icy surfaces twist it to the metal studs side; for versatile indoor walking turn it to the opposite side.
:: EASY TO USE: TWIST IT WHEN YOU NEED THE GRIP!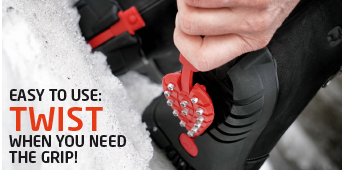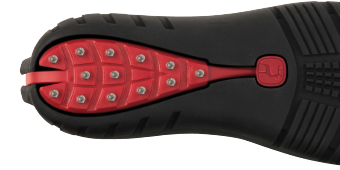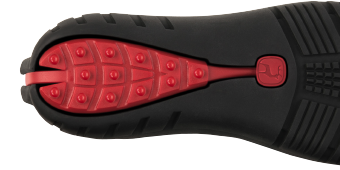 LIGHTWEIGHT SOLE
Klaveness' range of soles uses the lightest cutting edge components. Footwear equipped with these have their weight substantially reduced and are generally good options for summer and outdoor activities as well as day-to-day use.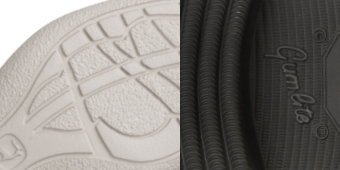 PATENTED ADJUSTMENT SYSTEM FOR VELCRO WITH RETURN
This patented system developed entirely by Klaveness is available in a wide range of Medical Stock Shoes and can also be used in orthopaedic styles.
To broaden the extension of adjustment, Klaveness offers extra-long cuttable Velcro straps. After setting the desired length, the unused part of the strap must be cut off, resulting in nicely finished ending seams.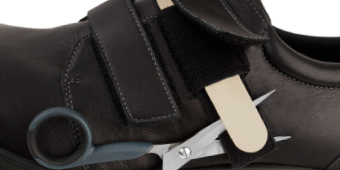 REMOVABLE 3MM EXTRA FITTING INSOLE
This adjustment is available for customised foot orthotics fitting.
Some customisations require more volume than usual and more space is needed to accommodate correctional foot orthotics. Although being designed to meet unique foot orthotic requirements, it can be used to fit a larger foot.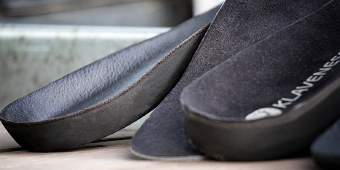 REMOVABLE FOOTBED
Footbeds play an essential role to create comfortable shoes, as they provide cushion, comfort and moisture management.
Removable footbeds are particularly beneficial for those who need customized foot orthotics. Additionally, they can be detached for airing and cleaning, and easily be replaced with a new pair when they start to wear out, extending the life of your footwear.
VELCRO STRAP WITH RETURN
This feature adds functionality to the Velcro® strap by returning it through a metallic loop. This loop acts as a pulley system, absorbing force in friction around the tight bend, resulting in reinforced closure and optimized adjustment.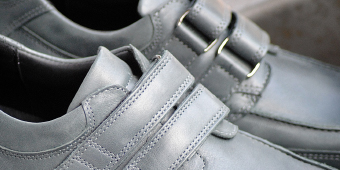 WATERPROOF
Waterproof ensures that your feet stay dry, warm and comfortable in wet or icy conditions.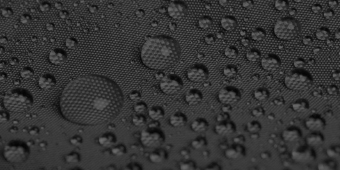 ZIPPER
Consisting of two tracks of metal teeth that interlock via a central pulley, a zipper is always the right solution for those who have difficulties on fastening footwear.
Zippers simplify and speed up taking off and putting on shoes, and they allow the same fit each time you put them on.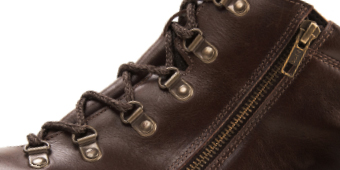 BOA® FIT SYSTEM

The BOA® Fit System is an instant, single-handed, fine-tuning closure system that optimises fit and provides precision and control. It is an alternative to traditional shoelaces.
It delivers a smooth and even closure whilst minimising pressure points.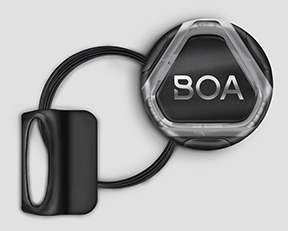 BOA® IS EASY TO USE

PULL UP
FOR QUICK RELEASE
To loosen, pull up the dial.

TURN
TO TIGHTEN
To tighten, make sure the dial is pushed in and turn it right (clockwise).

PUSH IN
TO ENGAGE
Leave the dial pushed in during use.
100% WATERPROOF AND BREATHABLE
SympaTex® is a fabric that is branded as 100% waterproof and is made or licensed by SympaTex Technologies GmbH.
It features a waterproof, windproof and breathable membrane that is laminated to fabrics either on their inner surface or sandwiched between two layers. The latter system offers more excellent durability, by better protecting the integrity of the SympaTex layer from abrasion.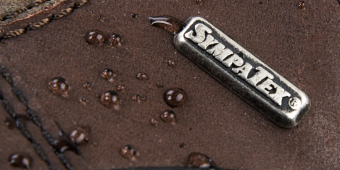 VIBRAM® SOLE
Vibram is an Italian based company that has designed high-performance soles with unmatched durability, stability and slip resistance. Klaveness includes part of the extensive Vibram range of soles in selected styles.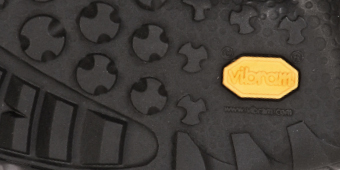 UVEX MEDICARE
Designates safety footwear that has been certified for orthopaedic adjustment and orthopaedic shoes according to German DGUV 112-191 and/or Austrian ÖNORM Z 1259.
EXCEPTIONALLY HIGH, ANATOMICALLY SHAPED TOE CAP
The large volume of the toe cap reduces the risk of pressure points and lesions in the front of the foot.
UVEX XENOVA® TOE CAP
100% metal-free toe cap, fully lined with soft, comfortable padding ensuring increased wearer comfort when kneeling and during impacts.
ANTISTATIC PROPERTIES (ESD)
Safety footwear marked with the ESD symbol meets the ESD specification with a leakage resistance of less than 35 megaohms.
SLIP RESISTANCE (SRC)
SRC is currently the top rating for slip resistance under the EN ISO 20345:2011 standard.
UNISEX
Safety footwear marked with this symbol have been produced in sizes 35-40 using a last which mimics the contours of the female foot.
uvex climazone foot climate management
Combines expertise in research and product development with the use of intelligent materials and technologies to develop climate-optimised safety footwear.

Position the handle into one side of the cradle.

Rotate the handle to enter the other side over the top corner of the cradle.

Place the handle inside the cradle.

Don't pull the strap very hard.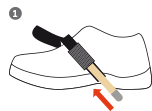 Insert the wooden stick in the "adjustment tunnel".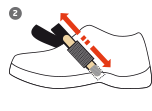 Adjust the strap by pushing and pulling until the desired lenght is obtained.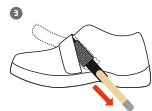 Test the adjustment by placing the strap in place. Remove the stick.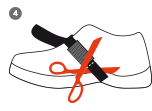 Cut off excess Velcro. It's ready to use!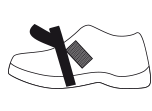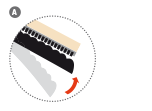 Attach the stick to the strap using the hard Velcro area on the stick.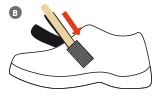 Insert the strap into the "adjustment tunnel" using the wooden stick as guide.